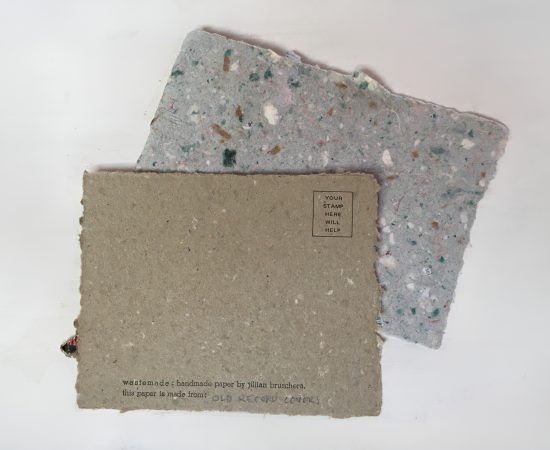 The Art of the Postcard
instructor: Jillian Bruschera
price: $130 General / $120 Members / $110 BIPOC and LGBTQ
Writing postcards offers a tangible and heartfelt way to connect, bridging distances and preserving memories with a touch of personal warmth. Discover the joy of crafting personalized postcards in this two-day workshop with The Mobile Mill (@TheMobileMill). Students will learn how to make their own handmade paper postcards from recycled materials and embellish their postcards by way of collage and printmaking methods.
WHEN: Saturday & Sunday, October 7 & 8, 2023
TIME: 2-4:30 PM
WHERE: Verge Classroom
PRICE: $130 General / $120 Members / $110 BIPOC and LGBTQ
WHO: Adults
About the Instructor
Created and operated by teaching artist Jillian Bruschera, The Mobile Mill was custom-built for pop-up paper production. The studio's transportable nature enables Jillian to teach the craft of hand papermaking to anyone, anywhere. The Mobile Mill considers art- making – in this case the making of handmade papers from recyclable fibers – a way to engage and generate physical, creative community. In motion since 2014, Jillian has traveled around the world for open-studio events and lectures, public art interventions, and interdisciplinary workshop series that promote collaboration between hand papermaking and other media. Learn more on Instagram @TheMobileMill.
Community Standards
In order to create a safe and encouraging environment for creativity, we ask that all attendees comply with Verge's non-discrimination policy which prohibits unlawful discrimination and harassment based on race, color, gender, gender identity/expression, age, physical or mental disability, religion, sex, sexual orientation, or any other consideration made unlawful by the state or local laws. We also ask that everyone contribute positively to a safe and comfortable environment for all attendees. We reserve the right to refuse entry to anyone who does not abide by our community standards stated above.
Cancellation and Refunds Policy
Verge Center for the Arts reserves the right to cancel classes, to change instructors, and to make other changes that may become necessary to ensure a quality experience for participants. In the event that a class is canceled, we will contact all registrants and offer the option of transferring to another available session, or receiving a full refund.
If a participant wishes to withdraw from a class, they must do so in writing at least seven days prior to the first class meeting to receive a full refund, less a $25 processing fee. Withdrawals occurring within seven days prior to the first class meeting will receive a refund of 50 percent of the total class fee. No refunds are given to withdrawals that occur 24 hours before the class begins. Transfers are not accepted after a class begins. Membership fees are non-refundable. Please note we are unable to issue cash refunds.