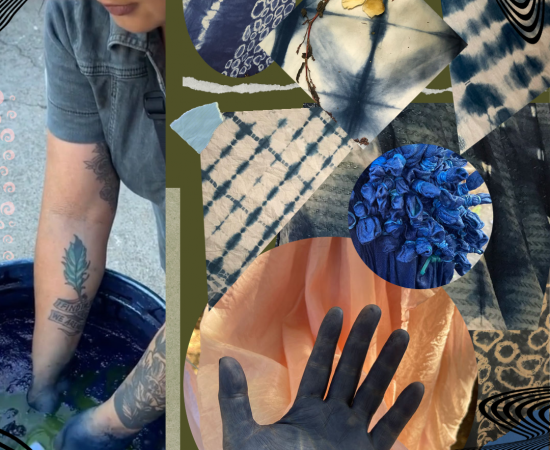 Tayum-a Filipinx Indigo Workshop
instructor: Jamie Pesquiza Cardenas
category: Natural Dye Work
On Sunday, October 30th, 12-4pm, come explore the magical transformation of Tayum also known as Indigo. This dye plant is typically associated with dye practices out of India and Japan but there is a rich dye culture that exists in the Philippines dating back to the pre-colonial era. In this workshop you will learn how to do basic resist patterns and how to bring the blue color out of a green plant while celebrating Filipinix/a/o American History Month!
Did you know that the capital city of the Archipelago of the Philippines named Manilla translates to "Where the Indigo comes from"? In this workshop, artist Jamie Cardenas will share information, research and tips. This workshop is equal parts art and getting in touch with your senses. Watch the colors transform and play with incredible plant magic in the form of Indigo! All materials will be provided. Please pack snacks or a lunch as we will be working through the afternoon. You will also be provided with a vat recipe to try on your own and resources to continue your own dye practice. Indigo vat dying is an old practice of extracting the color blue from the Indigo plant.
This workshop considers the cultural and geographical significance of the color blue. The color blue is both a color and a feeling; it elicits a very emotional response in humans, much like the pull to look at the deep blue ocean, or up at the beautiful sky. There's a connection. Our goal with sharing this craft is to revive this old practice and connect community to the art and culture of the past. We hope this workshop plants the seed of celebrating both ancestral brilliance and more sustainable approaches to textile art.
About the Instructor
Jamie Cardenas is a multidisciplinary artist, herbalist, Apothecary owner and cultural worker located on Unceded Nisenan Territory/Sacramento. She is a first generation Filipinx-American and Ilokana. She is a distiller, natural plant dyer, weaver, potions maker, and film photographer. Daughter of Jaime Galinato Cardenas and Angelita Pesquiza Cardenas – She comes from a line of stewards of the land, of healers, weavers of Abel Iloko and storytellers. She shares her gift of fiber arts, plant medicine and healing from her Grandmother's ancestral knowledge in the hopes of supporting their community with healing, documenting community with film, and helping them stay in touch with their body, ancestors and senses with the magic of plants. Jamie's love of fiber arts comes from a deep longing for connection. She loves exploring textures and colors, especially the color Blue. She sees weaving and natural plant dyes as a bridge between their ancestors and those in the diaspora longing to connect to their heritage. In trying to excavate the art and culture of their ancestors, she has discovered that the symbols and colors used in the art all have specific meanings. Through the learnings of these symbols and motifs, Jamie has come to realize how connected we all are – not just in the archipelago or diaspora, but everywhere. Jamie especially honors their grandmothers, Maria Asuncion Galinato Cardenas and Victorina Borje Pesquiza – who were the very best of friends and weavers in Santa, Ilocos Sur. Sharing Indigo with Kapwa (shared-self) is part of Jamie's life's work. Jamie's middle name translates to Research and last name translates to Blue. When she's not in circle with her weaving sisters, making plant medicine or in front of her big Mama Indigo Vat, you will find her re-membering to find space for joy in the form of cooking for her loved ones, dancing and singing with her family to Soulection or through roller skating.
Community Standards
In order to create a safe and encouraging environment for creativity, we ask that all attendees comply with Verge's non-discrimination policy which prohibits unlawful discrimination and harassment based on race, color, gender, gender identity/expression, age, physical or mental disability, religion, sex, sexual orientation, or any other consideration made unlawful by the state or local laws. We also ask that everyone contribute positively to a safe and comfortable environment for all attendees. We reserve the right to refuse entry to anyone who does not abide by our community standards stated above.
Cancellation and Refunds Policy
Verge Center for the Arts reserves the right to cancel classes, to change instructors, and to make other changes that may become necessary to ensure a quality experience for participants. In the event that a class is canceled, we will contact all registrants and offer the option of transferring to another available session, or receiving a full refund.
If a participant wishes to withdraw from a class, they must do so in writing at least seven days prior to the first class meeting to receive a full refund, less a $25 processing fee. Withdrawals occurring within seven days prior to the first class meeting will receive a refund of 50 percent of the total class fee. No refunds are given to withdrawals that occur 24 hours before the class begins. Transfers are not accepted after a class begins. Membership fees are non-refundable. Please note we are unable to issue cash refunds.