Slant Step Forward
Exhibition Dates: September 12 – October 27, 2019
Opening Reception: Thursday, September 12th, 6pm – 9pm
Image: Angela Willetts, Artist's Body-Based Research: Slant Step as Mirror, 2019. Digital photograph, dimensions variable. Courtesy of the artist.
In 1965 the artist William T. Wiley found a peculiar slanted object in a Northern California salvage shop and gifted it to his student Bruce Nauman at the University of California, Davis. Thus, began nearly five decades of exchanges between West and East Coast artists that resulted in countless sculptures, drawings, films, poems, and an artists' book published by Phil Weidman in Sacramento in 1969. Amused and perplexed by the intended function of the object, artists have returned to the Slant Step time and again, speculating that it was designed as everything from a footrest, shoe shining stand, doorstop, and children's slide, to a "squatty potty." On the fiftieth anniversary of Weidman's Slant Step Book, Verge has republished his influential volume and organized an exhibition that places a selection of historic works into dialogue with contemporary responses by artists working across the United States who find new relevance in the Slant Step today.
Though the Slant Step is commonly associated with San Francisco, Mill Valley, and Davis, a lesser-known chapter in its history is its time in Sacramento in the late-1960s and early-1970s. Weidman's 1969 book, performances at Sacramento State (CSUS), and a related exhibition at the Art Company gallery—which was located just blocks from Verge—represented the first time that an entirely new community of artists banded together around the Slant Step. These activities in Sacramento carried forward the now time-honored tradition for periodic Slant Step projects that reassess the enduring appeal of this absurd and seemingly unlovable object.
Verge's contribution to this ongoing history, the exhibition Slant Step Forward, looks to Weidman's book to examine how the Slant Step continues to bring together artists united not by geography, age, or style, but by their affinity with the object. The artists in Slant Step Forward are drawn to the ways in which the original Slant Step suggests the human body and they excavate history to uncover the lessons that objects can teach us about ourselves, and what the past can teach us about the present. Many of the Slant Step's contemporary descendants, including Terry Berlier, Mungo Thomson, and Angela Willetts, trace a biographical or academic line to the Davis-Sacramento area. Despite their distance from its Californian origins, the artists Gordon Hall, Corin Hewitt, Aay Preston-Myint, and Jessi Reaves share a conceptual kinship with the object. Hewitt first encountered the original Slant Step on a shelf in Frank Owen's study at the University of Vermont in 1995 and introduced Hall to the Slant Step when Hall was a visiting artist at Virginia Commonwealth University (VCU) in 2016.
Responding to the North Carolina bill that sought to restrict bathroom access based on one's sex assigned at birth, Hall turned to the Slant Step in 2016, writing: "We identify things in terms of their function and move on, reading passively. We learn only as much as we need to know. This object, compelling to so many in the past 50 years, is compelling to me as well, insofar as it encourages me to read more slowly. It makes me want to see it as more than one thing at once, or as many different things in quick succession. Looking to the slant step as a teacher, I want to learn what it seems to already know—I can't always know what I am looking at."
The Slant Step is not just a California story. It belongs to all who can identify with Wiley's early dedication of the object to the "despised unknown unloved people objects ideas." In a perpetual state of motion since Wiley salvaged it in 1965, the Slant Step has defied the odds. It is still stepping—across time and into new unmapped spaces.
Slant Step Forward is curated by Francesca Wilmott and will feature new sculptures, films, and drawings by Terry Berlier, Gordon Hall, Corin Hewitt, Aay Preston-Myint, Jessi Reaves, Mungo Thomson, and Angela Willetts alongside select historic and/or recent works by Robert Arneson, Jack Fulton, Edward Higgins, Ray Johnson, Stephen Kaltenbach, James Melchert, Jack Ogden, Paul Pechter, Ron Peetz, Richard Serra, David E. Stone, Phil Weidman, Dorothy Wiley, William T. Wiley, and Bill Yates. In anticipation of Verge's exhibition, students from VCU and CSUS engaged in a cross-country exchange of art inspired by the Slant Step in Spring 2019.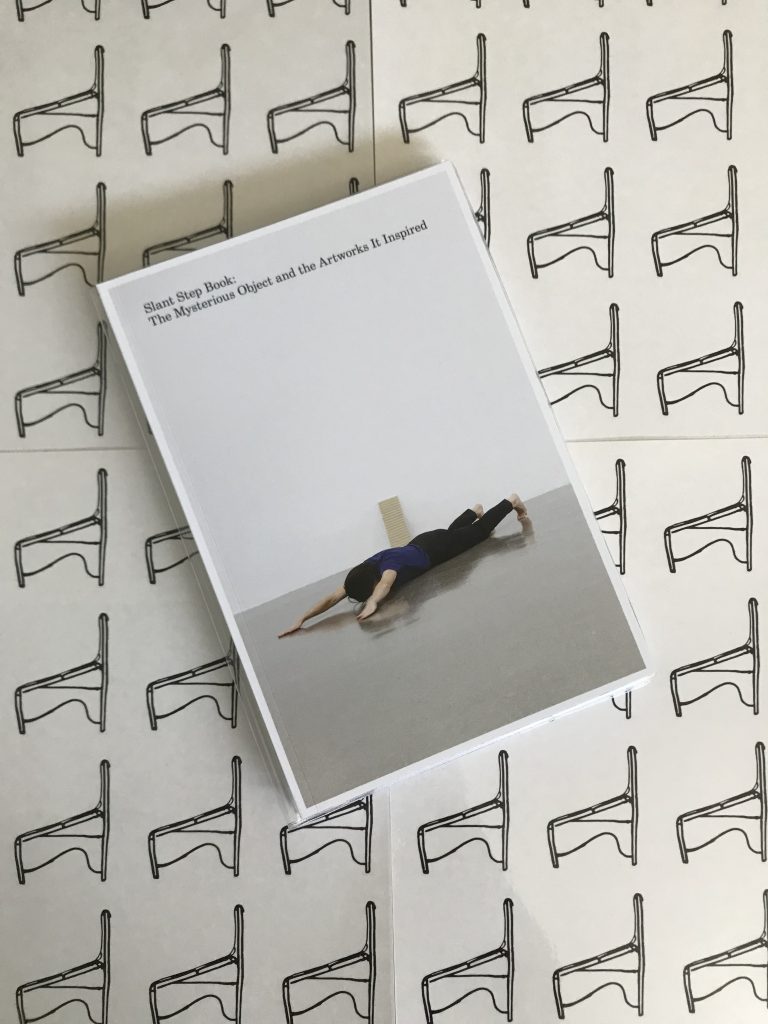 Slant Step Book: The Mysterious Object and the Artworks It Inspired
The exhibition is accompanied by Slant Step Book: The Mysterious Object and the Artworks It Inspired, a publication edited by exhibition curator, Francesca Wilmott. This two-volume set includes an exact facsimile of the 1969 artist's book and a companion catalog with a new foreword by Verge's Founding Director, Liv Moe, essays by Sarah Lehrer-Graiwer, Dan Nadel, Jacob Stewart-Halevy, and Wilmott, and responses by the contemporary artists in the exhibition. The publication will be sold internationally by Distributed Art Publishers. 
Edited by Phil Weidman, Francesca Wilmott. Preface by Phil Weidman. Introduction by Francesca Wilmott. Foreword by Liv Moe.
For nearly five decades a peculiar wooden object called the "Slant Step" was exchanged between artists from coast to coast, developing a cult like following and inspiring poetry, art and unlikely collaborations. Artist William T. Wiley first came upon the original object at a salvage store in Northern California in 1965. Covered in worn green linoleum, it looked like a footstool; however, its sharp slanted riser mystified Wiley and Bruce Nauman, his student at the University of California, Davis. Wiley purchased the found object and gifted it to Nauman, who maintained possession over it until Richard Serra absconded with it from San Francisco to New York. In 1969, Sacramento artist Phil Weidman surveyed the first years of the "Slant Step" in an artist's book that featured contributions by Nauman, Wiley, William Allan, Richard C., Jack Edwards, Jack Fulton, Ray Johnson, Steve Jongeward, Stephen Kaltenbach, Robert Leach, Jack Ogden, Frank Owen, Ron Peetz, Lawrence Dean Phillips, Peter Saul, Dorothy Wiley and William Witherup.
On the occasion of its 50th anniversary, Weidman's influential Slant Step Book is again available in a two-volume set. This long-overdue republication features a facsimile of the 1969 artist's book and a companion catalog with new essays and visual responses by contemporary writers and artists such as Sarah Lehrer-Graiwer, Dan Nadel, Jacob Stewart-Halevy, Terry Berlier, Gordon Hall, Corin Hewitt, Aay Preston-Myint, Jessi Reaves, Mungo Thomson and Angela Willetts.