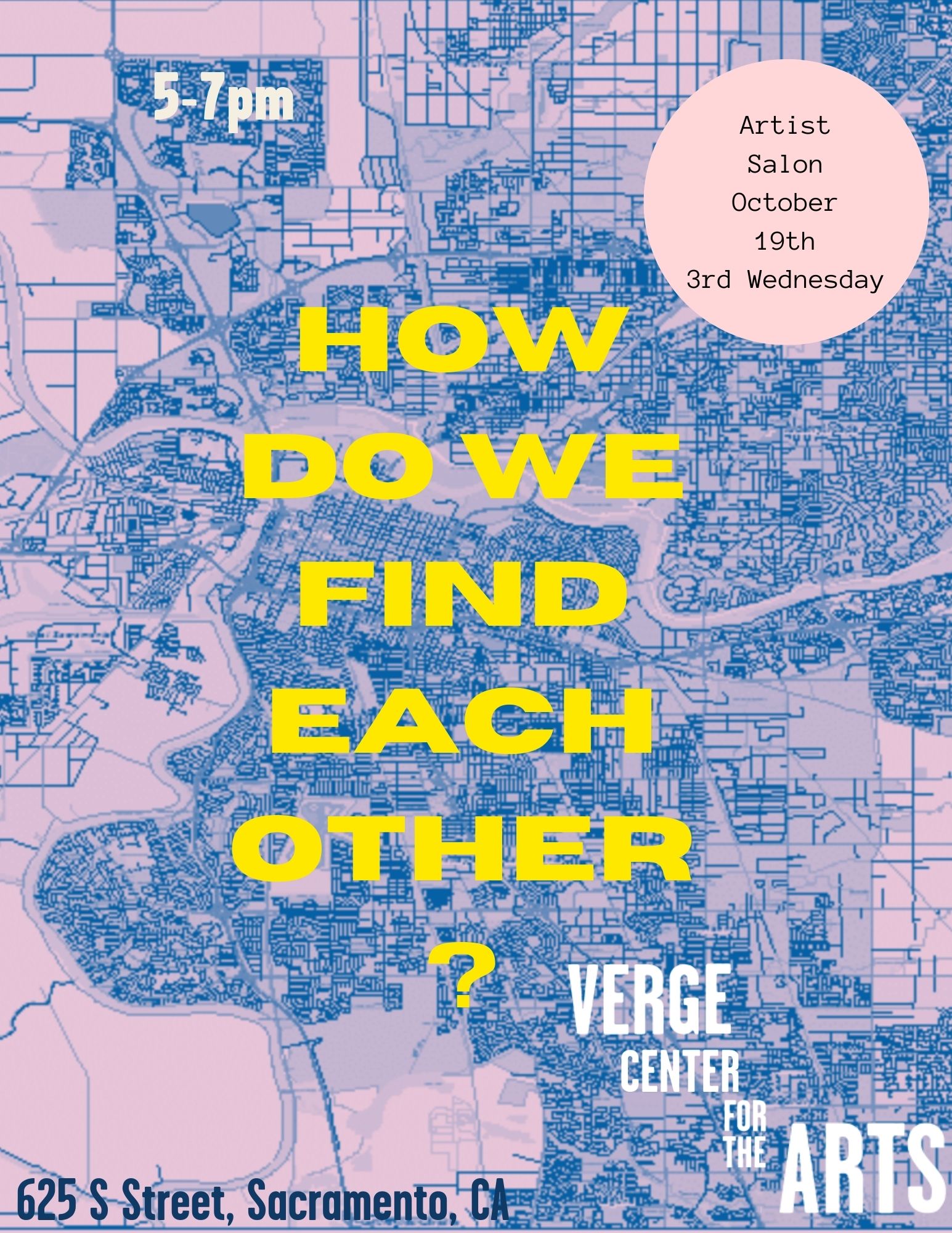 Artists' Salon
October 19th, 2022
5:00pm-7:00pm
Verge is happy to announce the return of the Artists' Salon.
Art discourse is an important part of the cultural community, sharing a space to vocalize ideas and challenging oneself to go beyond self imposed barriers has the potential for growth in practice and in connection to other artists.
This group discussion with the inclusion of light snacks and refreshments is a free event.
This month's topic is How Do We Find Each Other? Since the last Verge Salon two and a half years ago, communities have reshuffled, predictable rituals have been forced to evolve, and conversations have become increasingly mediated by technology. The lights on our trusted signposts no longer illuminate where to go to find vital art discourse and engagement. What does it mean now, to gather as physical proof to each other of the creativity and thought that is present where we live? What clues have allowed us to find our creative communities during this upheaval, and how have we missed signs as we've crossed paths unknowingly? What can we do moving forward to see each other and enhance our networks of artistic making and thought?
These monthly art salons will be co-hosted by Michael LaHood and Jillian Bruschera.
Co-Hosts Biographies:
California native, Jillian Bruschera is an interdisciplinary artist and arts-activist, who creates works in visual art, writing, public installation, body performance, and social practice. As founder and proprietor of The Mobile Mill, she travels teaching the art of hand papermaking. She holds BAs in Studio Art and Visual Communications from Loyola University Chicago and a MFA in Interdisciplinary Arts from Columbia College Chicago, where she also served as Adjunct Faculty in the Center for Book and Paper Arts.
Michael LaHood is an interdisciplinary artist whose inquiry focuses on how we interact as individuals, and how those granular interactions accrue and take on life of their own. Fire, biorhythms, interactivity, and the nature of epiphanies are a few topical probes for him in that pursuit. He has a BA in Human Biology and an MA in Media Studies from Stanford University and an MFA in Interdisciplinary Art from Columbia College Chicago.
Here are the reference material links for this month's salon:
https://eyeondesign.aiga.org/soft-art-for-hard-times-sonnenzimmer-on-the-ethics-of-creating-in-the-covid-era/
https://artreview.com/art-after-pandemic/
https://buckdown.medium.com/what-the-fuck-just-happened-at-burning-man-fd5e5b95e011
https://www.frontiersin.org/articles/10.3389/fcomp.2021.634145/full
Events