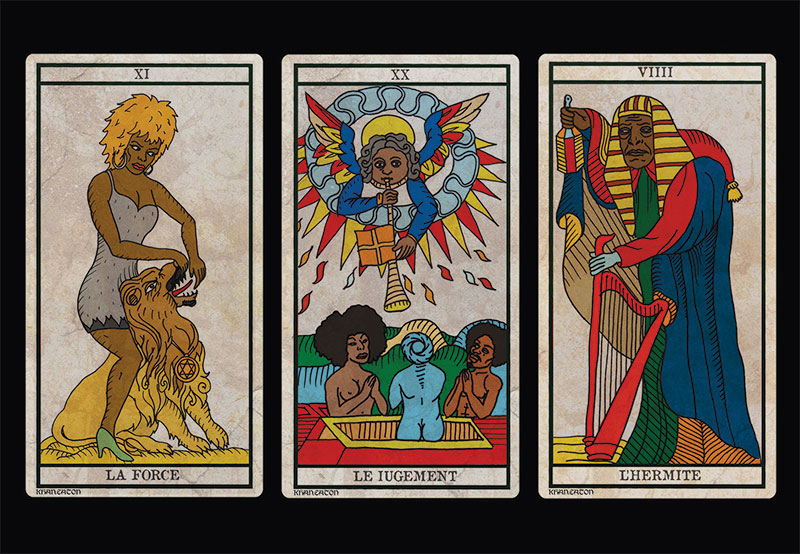 Black Power Tarot Opening Reception
January 14, 2023
5pm - 8pm
Location: Verge Center for the Arts
625 S Street, Sacramento, CA, 95811
Join us on January 14, 2023 from 5-8pm for the opening of BLACK POWER TAROT.
WHAT INSPIRED THE BLACK POWER TAROT?

While working on a film score for a documentary about a black power group from Memphis called The Invaders, artist King Khan had a dream, a premonition.

In the dream, filmmaker and spiritual guru Alejandro Jodorowsky asked Khan to show him "a card that is weird" – which Khan produced from his pocket. Both studied the card, and agreed it was weird.

Khan awoke from this dream with the vision to make The Black Power Tarot. He carefully selected the right African American people to fit into the archetypes of the major arcana, with the ultimate goal of taking these chosen folk and bringing them into a mythos, transforming them into the sacred tarot. As if by fate, Khan was contacted by Michael Eaton, an artist from Belfast, who previously worked mostly in film and television, including painting all the flags and maps for Game of Thrones.  Khan asked him to depict the chosen people on the cards, and to base it all around the sacred geometry of Tarot de Marseilles in order to create the Black Power Tarot vision.

Khan states, "The concept of Black Power is about giving 'all power to all the people.' I wanted to blend this into the idea that these cards give anyone who wishes to learn this language the power to control their own destiny and follow a path of illumination and enlightenment. These cards are a mirror of the soul as much as they are always simply representing the truth. Often the truth is what is feared the most, but if you let the tarot show you the way you will find an ancient wisdom that was passed on for centuries and that still remains strong and wise."
Come see the incredible result of this collaboration for yourself! Join us at the reception, or catch it during regular gallery hours through March 19th, 2023.
Events