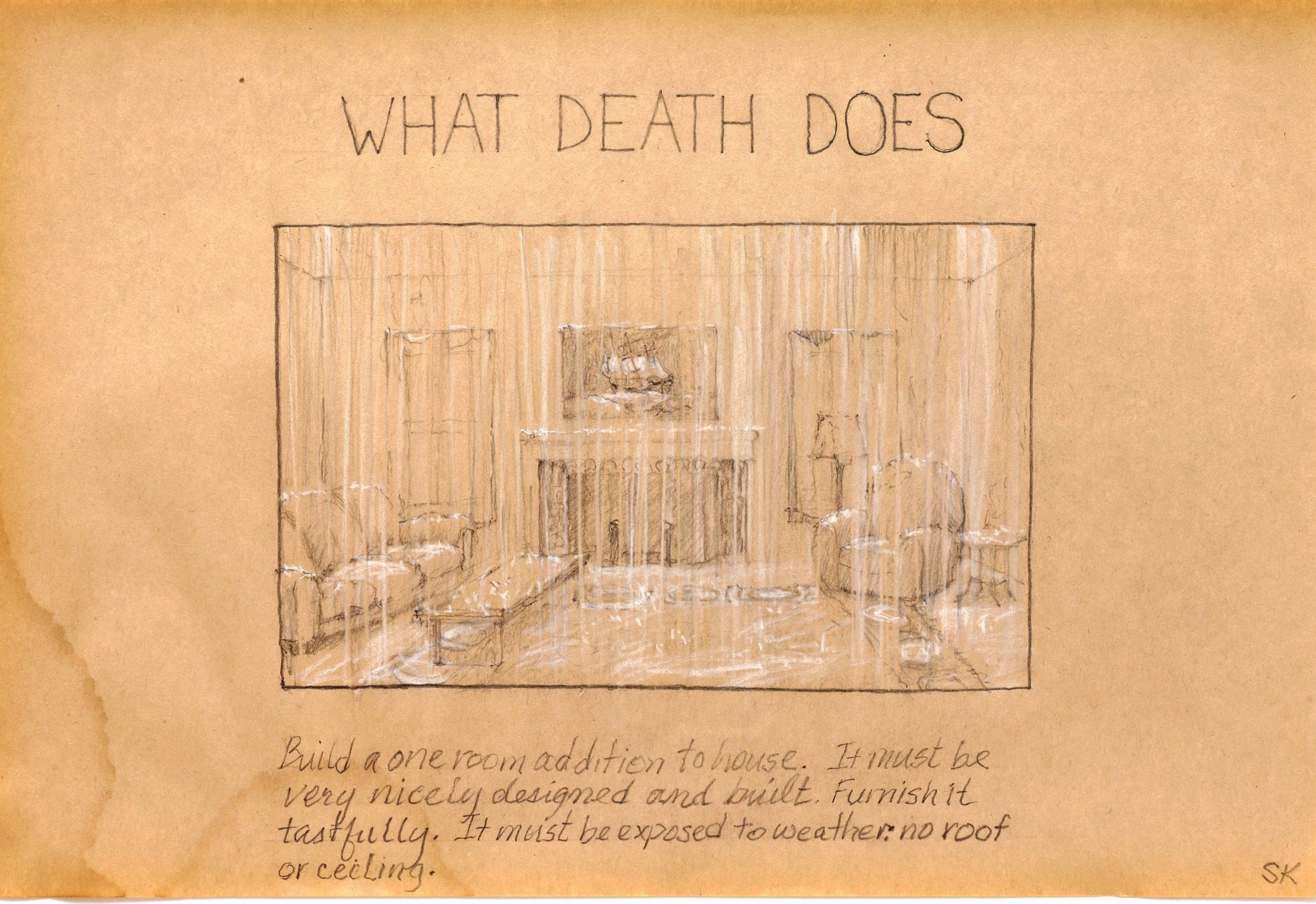 OPENING RECEPTION: What Death Does: Time, Scale and Anonymity
Saturday, June 10
5PM - 8PM
Verge Center for the Arts is pleased to announce its second solo exhibition by Stephen Kaltenbach. This show curated by Richard Haley, brings together several different bodies of work and modes of making from Kaltenbach's more than 55-year career.
Join us in the evening this Second Saturday for the opening reception for this thought provoking exhibition, June 10th at 5pm. Stephen Kaltenbach as well as the curator Richard Haley will be in attendance.
The exhibition will focus on his career long interest in time and scale. The center piece of the show is What Death Does, a stage set of a furnished living room. Throughout the run of the exhibition, simulated rain falls into the room. Decay sets in at an accelerated pace with the aid of manufactured precipitation. Geological time becomes heightened and condensed into theatrical entropy. Deep time becomes visible through human perception.
The show also brings together a group of works exploring time and scale in a much different manner. Throughout the late 1960's, Kaltenbach used strategies of anonymity, aliases, and tactical lies to create works that slowly spread as historians, curators, viewers, and students unearthed them and tied the work back to his practice. The exhibition will include work by Kaltenbach's aliases Es Que and Clyde Dillon. It will also feature work from his anonymous Artforum micro manifestos and lies that circulated through the readership of the Village Voice and Arts magazine.
Kaltenbach's divergent strategies put the viewer in a precarious position. They will be confronted by an ever changing visceral sculptural work while simultaneously being asked to engage with weightless unmeasurable works that have not yet come fully into focus. We as viewers are stretched between the physical and the cerebral and are asked to create a strategy to hold room for both.
Kaltenbach's work is currently on view in the exhibition Together in Time at the Hammer Museum in Los Angeles, CA. Recently, he presented a solo exhibition at Konrad Fischer Galerie, Dusseldorf, Germany. His works are in the collections of the Museum of Modern Art, NY; the Art Institute of Chicago, Chicago; the Berkeley Art Museum and Pacific Film Archive, Berkeley, CA; the National Gallery of Art, Washington, DC; the Walker Art Center, Minneapolis, and the Crocker Art Museum, Sacramento CA.
See this exhibition early in it's opening and again toward the end of the show's run as it will look vastly different as time exposes the installation piece.
This exhibition is made possible by generous support from the Albert and Elaine Borchard Foundation
There will light beverages and snacks for this free event.
Events