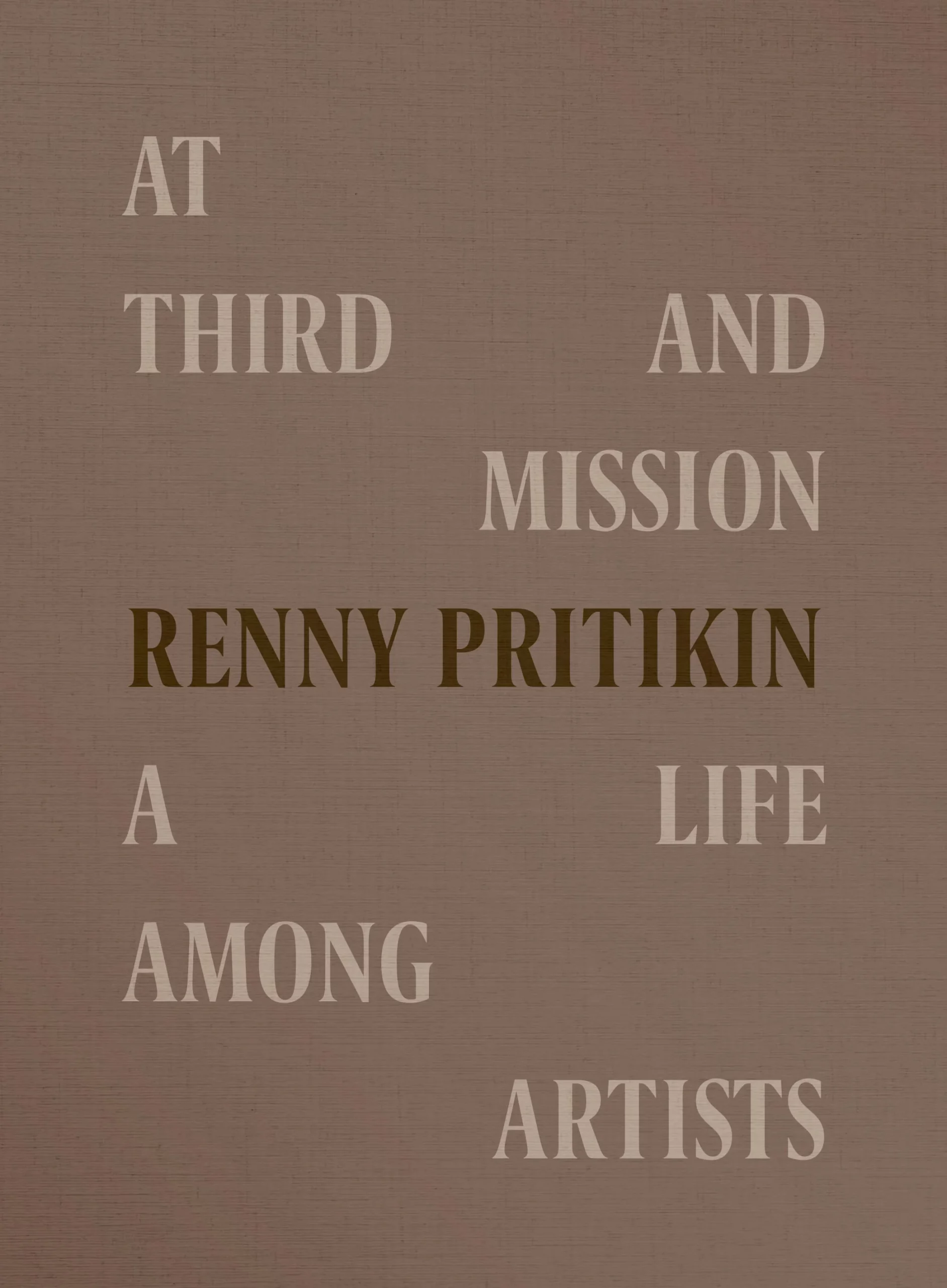 At Third and Mission — Reading with author Renny Pritikin
Thursday, October 26th
6-8PM
Join us on Thursday, October 26th from 6-8PM for a reading of the soon-to-be-released book At Third and Mission: A Life Among Artists with author Renny Pritikin.
At Third and Mission is a 150-page hard cover book with fifty photographs illustrating Pritikin's career between 1979 and 2018. It is intended to initiate an ongoing community project of documenting the Bay Area art scene of that time. Artists discussed include Fred Tomaselli, Don Ed Hardy, Nancy Rubins, Mark Pauline, Barry McGee, Isabella Kirkland, David Hammons, Kathy Acker and many more.
Pritikin will offer a brief reading and discussion, and copies of the book will be available for purchase. Light refreshments will also be provided. This event is FREE to attend, but please register to reserve your seat.
---
ABOUT THE AUTHOR:
Renny Pritikin was chief curator at New Langton Arts, Yerba Buena Center for the Arts, The Nelson Gallery at UC Davis, and The Contemporary Jewish Museum. Pritikin is noted for expanding the range of visual culture shown in museums with such shows as The Art of Star Wars, The Hall of Fame Hall of Fame, and Bicycle Culture. He was the first curator to bring the work of developmentally disabled artists as contemporary art in a museum, as well as the work of incarcerated people and other grass roots amateur art making projects. Pritikin taught curatorial practice in the graduate program at California College for the Arts for over a decade. He gave a lecture tour in museums throughout New Zealand as a Fulbright scholar and in Japan as a guest of the State Department. He also toured Israel as a winner of the Koret Israel Prize. He is the also the author of six books of poetry, and since retiring has been an art critic for squarecylinder.com and the US correspondent for Umbigo art magazine in Lisbon, Portugal. A native New Yorker, he received a Masters in interdisciplinary art from San Francisco State. He has lived in the Bay Area since 1971 and been married to Judy Moran for 46 years.
BOOK SEGMENT:
Albert Einstein
I was meeting with the archivist for Levi Strauss & Co. in their corporate headquarters in San Francisco. It was 2018 and we were to discuss an upcoming exhibition from Levi's historical collection that I was curating at the Contemporary Jewish Museum. Tracey Panek was business-like but friendly, and very proud of the company's work in amassing the archive. Their early records had been lost in the 1906 earthquake and fire, so their nineteenth-century holdings represented the fruits of donations and purchases. A lot of the early pants were found abandoned in mineshafts, for example, and were given or sold to them. Following our conversation, we shook hands and I started to leave, but Tracey stopped me. "Oh, I forgot, I saved the best for last," she said. "I wanted to blow your mind." A large white cardboard box sat on a nearby worktable. Tracey opened the box, which contained something wrapped in tissue paper with a magazine laid atop it.
She handed me the Time magazine from 1938. On the cover was a portrait of Albert Einstein, long white shriek of hair, sad smile, and wearing his trademark leather jacket. She then parted the tissue to reveal a rare Levi's leather jacket—the very jacket in the painting. I have been around special objects my whole professional life, but this one gave me an exceptional jolt. I experienced a sensation I have only had a few times in my life: I couldn't look hard enough, couldn't take in every aspect of what I was seeing, despite wanting to, because of its emotional impact. The Einstein jacket had deep sweat stains around the collar. It was otherwise immaculate and beautifully designed. Panek said, "You can't touch it, but bend over and smell it."
It was permeated with the odor of Einstein's pipe tobacco.
Events