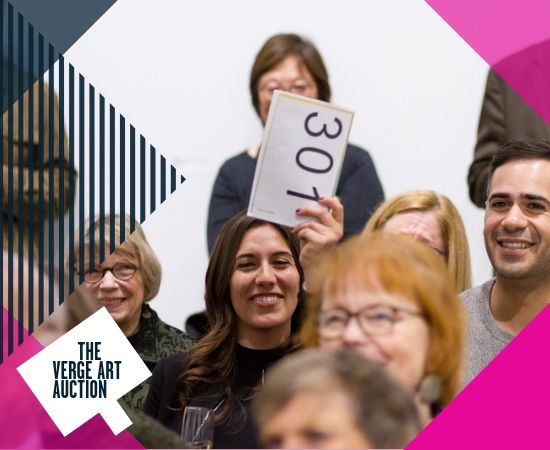 The 2019 Verge Art Auction
November 16, 2019
5:00 PM
It's back! Join Verge Center for the Arts on Saturday, November 16 for the latest installment of the Verge Art Auction. Spotlighting emerging and established artists, the Verge Art Auction is a one-of-a-kind event that celebrates Sacramento talents and California's unique contemporary arts scene.
Verge events are known for their unusual themes and unequaled experiences, and are part of a cultural movement in Sacramento that helps maintain local talent, attract national attention, and bring revenue to the city. By supporting creative talent, Verge is doing its part to make Sacramento a cultural destination.
Your support through ticket sales and sponsorships will help Verge continue in its mission to develop the future for contemporary art in the Sacramento Valley. Click the link above to check out our different sponsor levels and perks to find out how you can get in the mix!
DOORS OPEN AT 5PM
SILENT AUCTION
Lot 1 closes at 6:30 PM
Lot 2 closes at 6:45 PM
LIVE AUCTION
Starts at 7 PM
FEATURING
DJ sets by Hella Grove
Artful bites from Magpie, custom cocktails by Ford's Gin, and tasty brews to be provided.
FEATURING ARTWORK BY:
Phil Amrhein · Omar Thor Arason · Melissa Arendt · Chaitra Bangalore · Kumasi Barnett · Sean Bill · Tavarus Blackmon · Stefan Burnett · Sandra Cappelletti · Nathan Cordero · Raphael Delgado · Paul Dessau · Roma Devanbu · Richard Downs · Kate Farrall · Gioia Fonda · Mary Fong · Sandy Fong Whetstone · John Yoyogi Fortes · Peter Foucault · Ianna Nova Frisby · Sarah Golden · Jeffrey Grau · Amy Greer · Deb Hall · Frankie Hansbearry · Libby Harmour · Gale Hart · Stephen Hayhurst · Annette Heacox · Mike Heacox · Natalie Head · Robin Hill · Marirose Jelicich · Erin Kaczkowski · Mary Kercher · Betsy Kluga · Kendall Lecompte · Kathrine Lemke Waste · Aida Lizalde · Brenda Louie · Jennifer Lugris · Pat Mahony · Janine Mapurunga · Yelena Martynovskaya · Meech Miyagi · Harley W. Morden · Ann Mueller · Linda Nunes · Roxanne O'Brien · Kate O'Connell · Jennifer O'Neill Pickering · Omonivie Okhade · Beth Olagues · Ron Peetz · William Peterson · Deborah Pittman · Michael Pitts · Michael Pribich · Suzy Price · Manuel Rios · Thomas Ramey · Tyson Anthony Roberts · Muzi Li Rowe · Beth Consetta Rubel · Natalie Sakurai · Marsha Schindler · Nick Shepard · Susan Silvester · Mark Slick · Daniel Tran · William Wiley · Larry Williams · Shevaun Zakhir
---
Thank You to our 2019 Sponsors
Ravel Rasmussen Properties · Helen & Frank Wheeler
Ginny & Phil Cunningham · Gwenna & Dan Howard · The Law Firm of Sean R. Laird · Mimi Miller · SMUD
Claudia Coleman · Ali Nadimi & Samantha Minor · Gloria Naify
Darrene Hackler & Chris Hoene · Councilmember Steve Hansen · Gayle & Scott Govenar · Lori Gualco & David Levin · Marilyn & Phil Isenberg · Gail Counts Miller & Bob Miller · MarketOne Builders · Miller Consulting · Marcy & Steve Mills · Susan & Gene Moe · Elizabeth Fry Moulds & John Moulds · Carlin & Jim Naify · SolutionsWest
Sponsors Preview presented by: Gwenna & Dan Howard · Mimi Miller
Community Partners
City Scout · Honey · Topo Chico · Sean Minor Wines · West Elm Sacramento
---
Special Events Committee
Sarah Barkawi & Gwenna Howard, Committee Co-Chairs
Claudia Coleman · Joy Heller Gough · Gail Counts Miller · Gloria Naify · Jayne Rasmussen · Paulette Trainor
Events