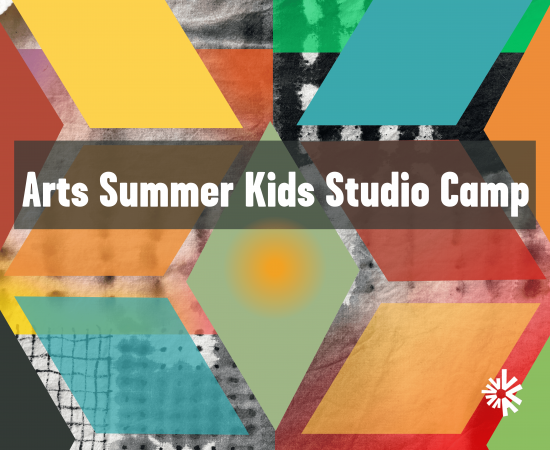 Arts Summer Kids Studio Camp 2023
instructor: Verge Staff and Visiting Artists
price: GENERAL $300, MEMBER (FAMILY LEVEL MEMBERSHIP ONLY) $250
Verge Center for the Arts Summer Kids Studio Camp is back! It runs for five weeks from June to July. We offer studio art instruction for 10-13 year olds. Every week is themed in relation to a current and interdisciplinary art practice with culturally relevant art historical and contemporary content.  All art supplies will be individually supplied and are included in the cost of the class. 
Camp runs M-F from 10:00am to 3:00pm. Campers may be dropped off between after 9:45-9:55am in the morning and picked up at 3:15pm. Staff will remain on site for late pickups until 3:30pm. Snacks are provided but please send your camper with a cold lunch. Lunch is between 12-1 on site.
CAMP SCHEDULE (see descriptions below)
June 19-23: Clay Play (10-13 yr olds)
June 26-30: All Things Print(Making) (10-13 yr olds)
July 3-7: NO CAMP
July 10-14: Painting Party (10-13 yr olds)
July 17-21: Textiles For Future (10-13 yr olds)
July 24-28: Collaborative Mural Magic (10-13 yr olds)
CLAY PLAY (June 19-23) (10-13 year olds)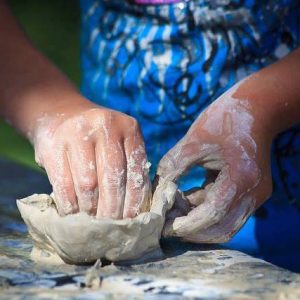 Clay Play is a week dedicated to getting your hands in the mud! What could be better? Sign up for this one week kids camp and try your hand at "throwing clay" and making forms on a pottery wheel, learn foundational techniques such as hand building, coiling, slipping, and scoring. In addition to learning the basics of clay, you will  create several projects over the course of the week, which will be fired in our kiln, so you can take your completed works home!
ALL THINGS PRINT(MAKING) (June 26-30) (10-13 year olds)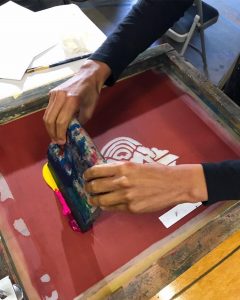 There are so many ways to become a printmaker, and in this one week camp, you will explore lots of ways into this practice. Risograph, block printing, mono printing are a few of the methods we will be experimenting with in this class. We'll use drawings and other creations in class to inspire our prints, and will try our hands at putting together our own zines!
PAINTING PARTY (July 10-14) (10-13 year olds)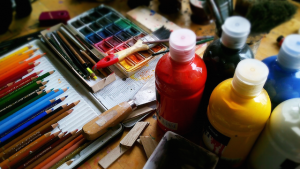 The Painting Party will be about exploring several techniques using different painting mediums such as watercolor and acrylic. This class will focus on expressing oneself and will provide students the chance to explore their identity and their unique ways of working with color through the arts with like minded peers. Paint is one of the best mediums to teach self expression, problem solving, motor skills and expand creative growth.
TEXTILES FOR FUTURE  (July 17-21) (10-13 year olds)
Textiles for Future will explore the different ways textiles can be created or used for artistic expression with a special consideration given to sustainable ways of making. This class will focus on different ways we can find color from natural sources, and you will learn how to dye fabric, make small weavings, and convert discarded clothing into works of art! It will provide a creative environment for students to work on their craftwork and motor skills with other like minded peers.  It will also provide opportunities for students to learn about the textile art world and its vast histories.
COLLABORATIVE MURAL MAGIC (July 24-28) (10-13 year olds)
In Collaborative Mural Magic, students will work together to create a giant work from the ground up! We will explore different mural making styles and movements as well as looking into the role that murals can have within the community. Each day we will learn about a different mural artist, work on mockups, generate ideas and imagery, and create one big collective artwork that is shaped by the unique visions and voices of the group.
Become a Verge Member TODAY and get a discount off classes, workshops,  and events!
Pricing (per 1 week of camp)
NON-MEMBER: $300
MEMBER (FAMILY LEVEL MEMBERSHIP ONLY): $250
MULTIPLE WEEKS: (applies beyond 1st week): 10% off cost of the class in the category that you apply in (ex. member, non-member etc.)
Cell Phone Policy
Campers are not allowed to use cell phones or electronic devices during camp at any time unless the teacher allows them for class content. They may bring them to camp as long as they are kept in their cubbies. If a parent needs to contact their child please call Verge at (916)448-2985.
Lunch Break/Snack Policy
Campers get an hour break for lunch between 12:00pm-1:00pm.  Water is provided but please send your camper with a water bottle.
Notes
Maximum enrollment for a summer camp is 20 campers to ensure that all campers get a quality experience. A waitlist for camps is available but there is no guarantee a spot will become available.
Refunds
Verge Center for the Arts reserves the right to cancel classes, to change instructors, and to make other changes that may become necessary to ensure a quality experience for participants. In the event that a class is canceled, we will contact all registrants and offer the option of transferring to another available session, or receiving a full refund.
If a participant wishes to withdraw from a class, he or she must do so in writing at least seven days prior to the first class meeting to receive a full refund, less a $25 processing fee. Withdrawals occurring within seven days prior to the first class meeting will receive a refund of 50 percent of the total class fee. No refunds are given on withdrawals once the class begins. Transfers are not accepted after a class begins. Membership fees are non-refundable. Please note we are unable to issue cash refunds.