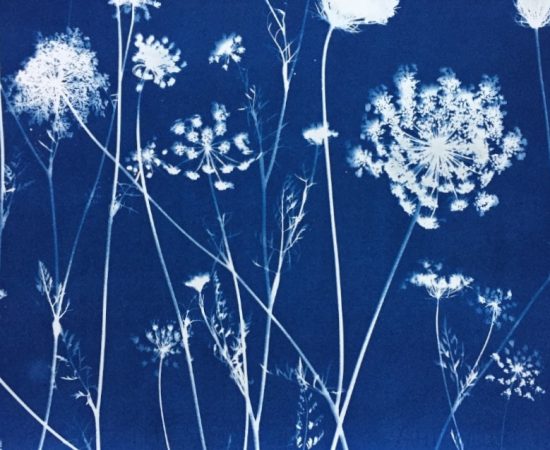 Botanical Blueprints: Intro to Cyanotype
instructor: Linda Clark Johnson
category: Cyanotype, photography
price: $125 General / $105 Verge Members
You don't need to be an artist to make beautiful blue cyanotype prints! In this introductory class you'll learn all the basics of this popular alternative photographic technique.
Using light sensitive chemicals you'll expose prints in the sun and process them in water. By the end of class, you'll have 4 gorgeous 8 x 10 cyanotype prints and the know-how to create more at home.
Lots of beautiful plants are budding and blooming during each season of the year. Let's celebrate the natural world by making botanical blueprints together!
All Supplies are included and you are encouraged to bring your favorite assortment of plant materials or interesting objects to make prints that are uniquely yours! Pressed plants and flowers work quite well.
Please bring a sack lunch and a water bottle for a "working lunch" during the class.
WHEN: Sunday, July 16, 2023
TIME: 12 – 4 PM
WHERE: Verge Classroom
Price: $125 General / $105 Verge Members
About the instructor:
Linda Clark Johnson creates original artwork using the cyanotype process. Cyanotype is a historical photographic technique that uses UV light for exposures and produces deep blue images. Linda prints using local plants in her sunny Sacramento back yard. She's been having fun perfecting her experimental printing style and sharing her knowledge with students of all ages for many years. She holds a BA in Art, a Masters in Education, and a teaching credential. Her experience in the arts and enthusiastic teaching style combine to make her classes clear, creative and fun!
Community Standards
In order to create a safe and encouraging environment for creativity, we ask that all attendees comply with Verge's non-discrimination policy which prohibits unlawful discrimination and harassment based on race, color, gender, gender identity/expression, age, physical or mental disability, religion, sex, sexual orientation, or any other consideration made unlawful by the state or local laws. We also ask that everyone contribute positively to a safe and comfortable environment for all attendees. We reserve the right to refuse entry to anyone who does not abide by our community standards stated above.
Cancellation and Refunds Policy
Verge Center for the Arts reserves the right to cancel classes, to change instructors, and to make other changes that may become necessary to ensure a quality experience for participants. In the event that a class is canceled, we will contact all registrants and offer the option of transferring to another available session, or receiving a full refund.
If a participant wishes to withdraw from a class, they must do so in writing at least seven days prior to the first class meeting to receive a full refund, less a $25 processing fee. Withdrawals occurring within seven days prior to the first class meeting will receive a refund of 50 percent of the total class fee. No refunds are given to withdrawals that occur 24 hours before the class begins. Transfers are not accepted after a class begins. Membership fees are non-refundable. Please note we are unable to issue cash refunds.