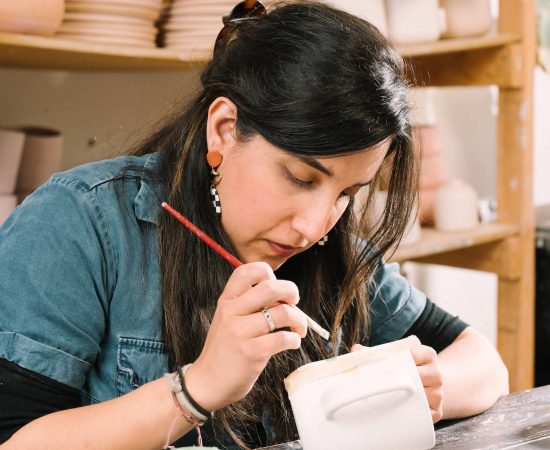 Ceramics: Handbuilding
instructor: Alejandra Calderon
price: GENERAL $120, MEMBERS $108, BIPOC COMMUNITY $100
There is nothing like drinking out of a handmade cup, especially when the hands who made it are yours! Make one yourself in this creative and engaging pottery class using the hand building technique. During this 3 part class you will learn the slab technique, which is one of different clay building techniques.

Throughout the class you will be led through a step-by-step demonstration on how to create a cup with a handle. You will then be set free to make your mugs with the instructor on hand for guidance. We encourage everyone to add their own touches and artistic flair so they have a truly one-of-a-kind functional creation.

You will be able to select a glaze and have it fired, ready for it to be picked up from the Verge.

Knowledge required: This class is good for beginners and more experienced potters alike.

What you'll get: All the materials and tools you need to create one (or two) cups.

WHEN: Thursdays, March 22, 30 & April 6

TIME: 5:30-7:30pm

PRICE: $120/$108 for Verge Members/$100 for BIPOC Community (Black, Indigenous, & People of Color)

WHERE: Verge's Classroom

WHO: Adults, Teens

About the instructor: 

Alejandra Calderon is the founder and co-owner of Echeri Ceramics (formerly known as Manjar Ceramics). Echeri Ceramics is a husband and wife run small business based in Sacramento. Their ceramic designs are inspired on their own culture, and drawing inspiration from traditional Mexican pottery. Alejandra was born to a Mexican immigrant family who have always believed in retaining their identity. Once in college she focused in becoming a high school art teacher. After obtaining her credentials her first job was teaching ceramics full time, and it was from there where she fell in love with clay and the different aspects of the ceramic making process, she has since never looked back.

Community Standards

In order to create a safe and encouraging environment for creativity, we ask that all attendees comply with Verge's non-discrimination policy which prohibits unlawful discrimination and harassment based on race, color, gender, gender identity/expression, age, physical or mental disability, religion, sex, sexual orientation, or any other consideration made unlawful by the state or local laws. We also ask that everyone contribute positively to a safe and comfortable environment for all attendees. We reserve the right to refuse entry to anyone who does not abide by our community standards stated above.

Cancellation and Refunds Policy

Verge Center for the Arts reserves the right to cancel classes, to change instructors, and to make other changes that may become necessary to ensure a quality experience for participants. In the event that a class is canceled, we will contact all registrants and offer the option of transferring to another available session, or receiving a full refund.

If a participant wishes to withdraw from a class, they must do so in writing at least seven days prior to the first class meeting to receive a full refund, less a $25 processing fee. Withdrawals occurring within seven days prior to the first class meeting will receive a refund of 50 percent of the total class fee. No refunds are given to withdrawals that occur 24 hours before the class begins. Transfers are not accepted after a class begins. Membership fees are non-refundable. Please note we are unable to issue cash refunds.