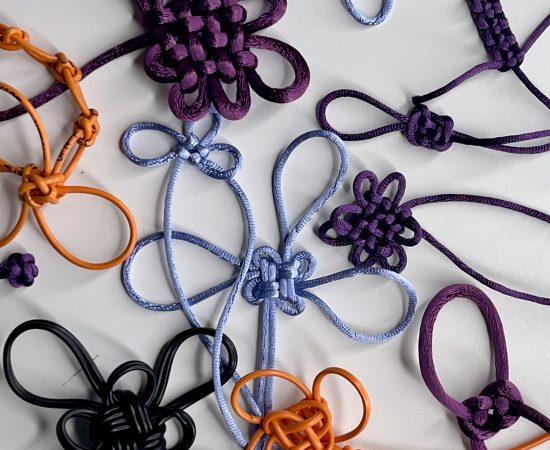 Chinese Knotting: An Introduction
category: Traditional Crafts
In this 6 hour workshop you will learn the techniques of Chinese knotting, a traditional form of folk art with many intricate and beautiful designs. You will be given instructions on how to make a variety of knots, from basic ones to more complicated, compound ones. There will be time in the class for you to explore, practice, and experiment with a variety of materials such as satin, twine, nylon, etc. By the end of class, you will be able to create your very own Chinese knots to turn into decorations, accessories and to impress your friends!
WHEN: Sunday, August 13, 2023
TIME: 10:00 AM -4:00 PM
PRICE: Free
WHO: ADULTS, TEENS
INSTRUCTOR: Muzi Li Rowe
About the Teaching Artist
Born and raised in Beijing, China, Muzi Li Rowe has lived in between Beijing, Sydney and Hawaii before residing in Northern California. Rowe is a resident artist at Verge Center for the Arts and a member at Axis Gallery. As one of the recipients of Seeding Creativity, a grant from the National Endowment for the Arts, Rowe is learning and sharing the technique of Chinese knotting as a part of her project. During this process, she is connecting with her roots while sharing this ancient craft with her local community.
Community Standards
In order to create a safe and encouraging environment for creativity, we ask that all attendees comply with Verge's non-discrimination policy which prohibits unlawful discrimination and harassment based on race, color, gender, gender identity/expression, age, physical or mental disability, religion, sex, sexual orientation, or any other consideration made unlawful by the state or local laws. We also ask that everyone contribute positively to a safe and comfortable environment for all attendees. We reserve the right to refuse entry to anyone who does not abide by our community standards stated above.
Cancellations and Refund Policy
Verge Center for the Arts reserves the right to cancel classes, to change instructors, and to make other changes that may become necessary to ensure a quality experience for participants. In the event that a class is canceled, we will contact all registrants and offer the option of transferring to another available session, or receiving a full refund.
If a participant wishes to withdraw from a class, they must do so in writing at least seven days prior to the first class meeting to receive a full refund, less a $25 processing fee. Withdrawals occurring within seven days prior to the first class meeting will receive a refund of 50 percent of the total class fee. No refunds are given to withdrawals that occur 24 hours before the class begins. Transfers are not accepted after a class begins. Membership fees are non-refundable. Please note we are unable to issue cash refunds