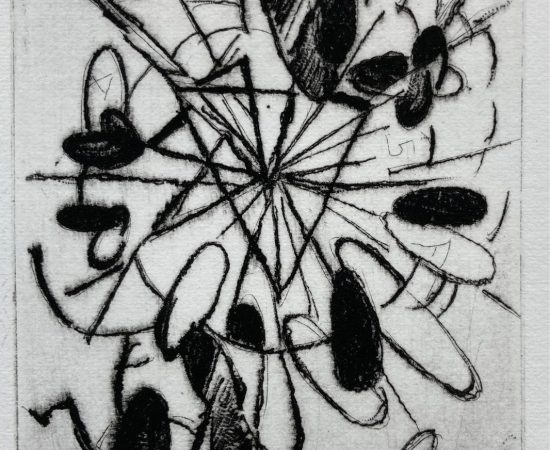 Drawing into the Print with Drypoint
instructor: Katherine Venterelli
price: GENERAL $200 / MEMBER $180
Learn the basics of this simple non-toxic printmaking technique developed in the 15th century. It is the most direct of all intaglio techniques and only requires scratching your image into a metal or plastic plate with a sharp needle. Drypoint technique is valued for its fresh and expressive lines which create a deep richness to an image. In a hands-on experience, workshop participants will learn the fundamentals of plate-making, use of simple drypoint tools, inking using nontoxic inks, press printing techniques, and exploring the possibilities of adding monoprint and chine collé/collaging to the image. In the second session, we spend the day experimenting with printing. No previous printmaking experience required.
WHEN: Saturday, June 24, Sunday, June 25, 2023
TIME: Saturday 10:00 AM -5:00 PM, Sunday 10:00 AM -4:00 PM
PRICE: General $200 / Member $180
WHO: ADULTS
INSTRUCTOR: Katherine Venterelli
About the Teaching Artist
Katherine is noted and awarded for her mixed media prints and artists books which are created in her print studio located in Amador County and Santa Fe, N.M. Her artworks are held in numerous private and special collections including the Palace Legion of Honor, S.F., and the Crocker Art Museum. As an art instructor and lecturer for the past 45 years, she has been able to share her passion for the printmaking medium. Website: katherineventurelli.com
Website: katherineventurelli.com
Community Standards
In order to create a safe and encouraging environment for creativity, we ask that all attendees comply with Verge's non-discrimination policy which prohibits unlawful discrimination and harassment based on race, color, gender, gender identity/expression, age, physical or mental disability, religion, sex, sexual orientation, or any other consideration made unlawful by the state or local laws. We also ask that everyone contribute positively to a safe and comfortable environment for all attendees. We reserve the right to refuse entry to anyone who does not abide by our community standards stated above.
Cancellations and Refund Policy
Verge Center for the Arts reserves the right to cancel classes, to change instructors, and to make other changes that may become necessary to ensure a quality experience for participants. In the event that a class is canceled, we will contact all registrants and offer the option of transferring to another available session, or receiving a full refund.
If a participant wishes to withdraw from a class, they must do so in writing at least seven days prior to the first class meeting to receive a full refund, less a $25 processing fee. Withdrawals occurring within seven days prior to the first class meeting will receive a refund of 50 percent of the total class fee. No refunds are given to withdrawals that occur 24 hours before the class begins. Transfers are not accepted after a class begins. Membership fees are non-refundable. Please note we are unable to issue cash refunds