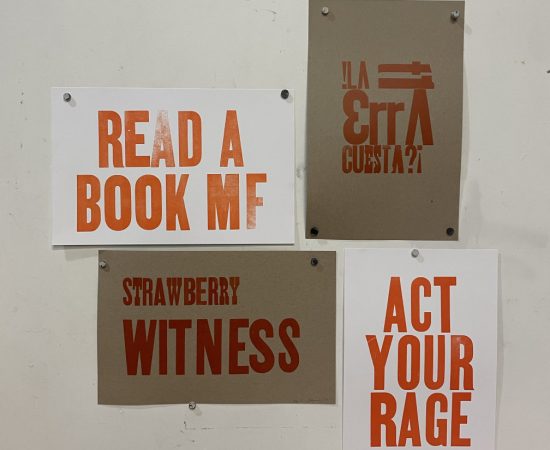 Introduction to Letterpress
instructor: Barbara Hennelly
category: Printmaking, Myrtle Press
price: MEMBER $110 / GENERAL $125
Delve into letterpress history and methods, learn the fundamentals of typography while playing with bassackward's collection of wood type, walk through the process of type composition and lockup, and experience the process of setting up and inking the press, pulling prints, and studio best practices including safe operation and proper breakdown and clean up. This beginner class is designed to introduce you to the historical relief printing technique of letterpress by offering hands-on experience with a midcentury Vandercook 219AB ­handfed cylinder proof press!  You will go home with a custom wood type letterpress poster, hand-cranked by you! No experience necessary. All materials included in registration fees.
WHEN: Saturday December 2nd, 11-3pm
WHERE: Myrtle Press inside Verge
PRICE: MEMBER $110 / GENERAL $125
WHO: Adults
About the Instructor
Sacramento-based graphic designer and art director Barbara Hennelly is now embracing the slow and imperfect nature of old-timey printing, blending her love of typography, the smell of ink, and the tactile nature of paper with words and messages that inform, inspire, entertain or resonate. She enjoys exploring the intersection of digital design and historical print techniques via her 1950-something Vandercook proofing press and a growing collection of antique Hamilton wood type. In 2019 she received a Communication Arts Award of Excellence in Typography.
Instagram @bassackwardpress
Community Standards
In order to create a safe and encouraging environment for creativity, we ask that all attendees comply with Verge's non-discrimination policy which prohibits unlawful discrimination and harassment based on race, color, gender, gender identity/expression, age, physical or mental disability, religion, sex, sexual orientation, or any other consideration made unlawful by the state or local laws. We also ask that everyone contribute positively to a safe and comfortable environment for all attendees. We reserve the right to refuse entry to anyone who does not abide by our community standards stated above.
Cancellation and Refunds Policy
Verge Center for the Arts reserves the right to cancel classes, to change instructors, and to make other changes that may become necessary to ensure a quality experience for participants. In the event that a class is canceled, we will contact all registrants and offer the option of transferring to another available session, or receiving a full refund.
If a participant wishes to withdraw from a class, they must do so in writing at least seven days prior to the first class meeting to receive a full refund, less a $25 processing fee. Withdrawals occurring within seven days prior to the first class meeting will receive a refund of 50 percent of the total class fee. No refunds are given to withdrawals that occur 24 hours before the class begins. Transfers are not accepted after a class begins. Membership fees are non-refundable. Please note we are unable to issue cash refunds.