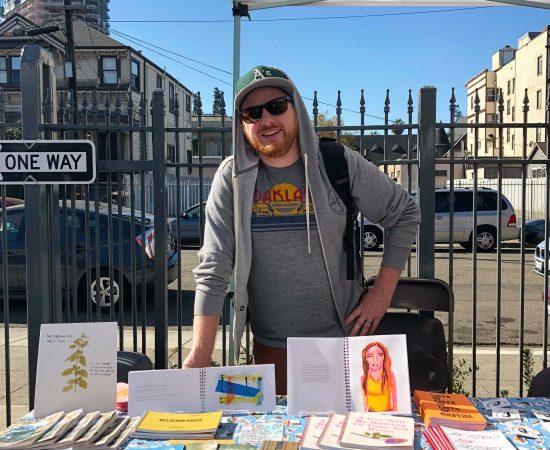 Introduction to Risograph Printing
price: $65 for non-members / $55 for Verge members
Introduction to Risograph Printing will provide students with all of the basic information needed to enter the world of semi-automated duplication. Within this workshop, students will be introduced to the history of risograph, contemporary practices, the quirks and mechanics of the process, and basic file set up skills needed to begin creating their own risograph prints. Each participant will leave with 50 2 color 8.5×11 sized prints. Bring a hard copy of an image or photo (designed in black and white or converted to grayscale) on 8.5×11" paper. The second color will be created in class.
WHEN: Friday August 26, 2022
TIME: 1-5PM
PRICE: $65 for non-members / $55 for Verge members
WHO: Adults, Teens
About the Teaching Artist
Zach Clark is an Oakland, CA based artist, educator, and publisher. He received his BFA from University of Illinois Chicago, and MFA from University of California Davis. His work is rooted in locational memory and is based in the intersection of printmaking, photography, and publication. He publishes as National Monument Press, a publishing project focused on supporting uniquely American stories through small edition printed matter and curatorial projects, completed largely through collaboration with other artists. He is one half of Chute Studio, an East Bay Riso studio. He has shown, worked, and is in collections across North America.
Community Standards
In order to create a safe and encouraging environment for creativity, we ask that all attendees comply with Verge's non-discrimination policy which prohibits unlawful discrimination and harassment based on race, color, gender, gender identity/expression, age, physical or mental disability, religion, sex, sexual orientation, or any other consideration made unlawful by the state or local laws. We also ask that everyone contribute positively to a safe and comfortable environment for all attendees. We reserve the right to refuse entry to anyone who does not abide by our community standards stated above.
Cancellations and Refund Policy
Verge Center for the Arts reserves the right to cancel classes, to change instructors, and to make other changes that may become necessary to ensure a quality experience for participants. In the event that a class is canceled, we will contact all registrants and offer the option of transferring to another available session, or receiving a full refund.
If a participant wishes to withdraw from a class, they must do so in writing at least seven days prior to the first class meeting to receive a full refund, less a $25 processing fee. Withdrawals occurring within seven days prior to the first class meeting will receive a refund of 50 percent of the total class fee. No refunds are given to withdrawals that occur 24 hours before the class begins. Transfers are not accepted after a class begins. Membership fees are non-refundable. Please note we are unable to issue cash refunds.