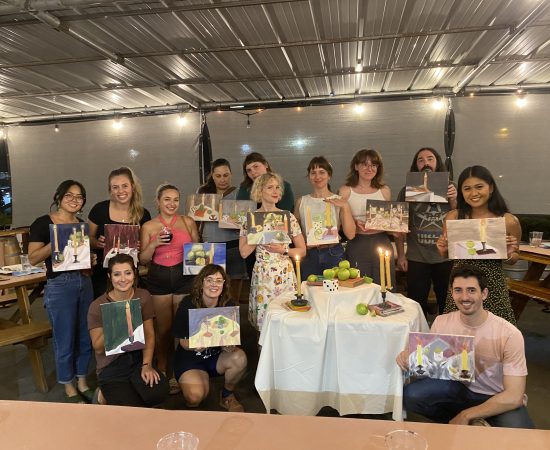 Still Life Painting Workshop
instructor: Cella Costanza
price: $45 general, $40 members, $35 BIPOC Community (Black, Indigenous, and People of Color) 
Join us for a fun afternoon where you will develop your painting and observational skills! In this two-hour workshop, you will be guided through the fundamentals of painting a still life in acrylic. You will explore color mixing and paint application by painting a variety of interesting objects and materials. Along the way, you will be provided with feedback and helpful advice as you progress through your work of art. No previous experience with painting is required and all skill levels are welcome.
About the Instructor:
Cella Costanza received her Bachelors of Fine Arts from California College of the Arts. She has shown her artwork in San Francisco, Los Angeles, Philadelphia and North Carolina. She currently works and lives in Sacramento California where she paints on a farm and hosts monthly still life painting sessions for students of all skill levels. She is passionate about helping people break through the resistance we create between ourselves and our creative expression. She hopes to create environments where art making can be playful and free of self-criticism.
WHEN: February 19, 2023
WHERE: Verge Classroom
TIME: 1-3 PM
AGES: Teens & Adults
PRICE: $45 general, $40 members, $35 BIPOC Community (Black, Indigenous, and People of Color
Community Standards
In order to create a safe and encouraging environment for creativity, we ask that all attendees comply with Verge's non-discrimination policy which prohibits unlawful discrimination and harassment based on race, color, gender, gender identity/expression, age, physical or mental disability, religion, sex, sexual orientation, or any other consideration made unlawful by the state or local laws. We also ask that everyone contribute positively to a safe and comfortable environment for all attendees. We reserve the right to refuse entry to anyone who does not abide by our community standards stated above.
Cancellation and Refunds Policy
Verge Center for the Arts reserves the right to cancel classes, to change instructors, and to make other changes that may become necessary to ensure a quality experience for participants. In the event that a class is canceled, we will contact all registrants and offer the option of transferring to another available session, or receiving a full refund.
If a participant wishes to withdraw from a class, they must do so in writing at least seven days prior to the first class meeting to receive a full refund, less a $25 processing fee. Withdrawals occurring within seven days prior to the first class meeting will receive a refund of 50 percent of the total class fee. No refunds are given to withdrawals that occur 24 hours before the class begins. Transfers are not accepted after a class begins. Membership fees are non-refundable. Please note we are unable to issue cash refunds.