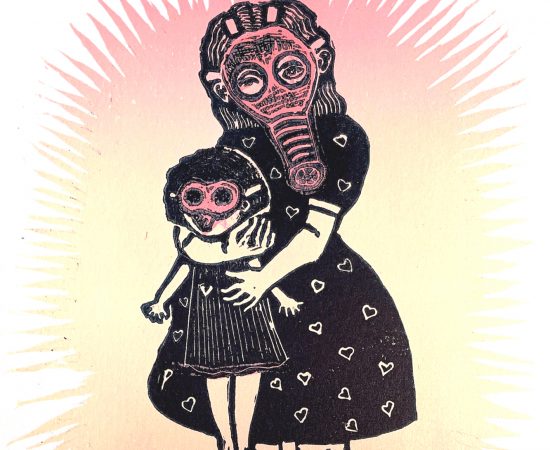 The Art of Linocut
instructor: Susan Silvester
category: Printmaking, Myrtle Press
price: $135 Members / $150 General / $130 BIPOC Community 
In this two-day, weekend workshop, Susan will guide students through essential linocut printmaking techniques, including inking, pin registration, paper preparation, and more. With hands-on demonstrations and personalized instruction, students will have the opportunity to explore their creativity and produce unique prints. All materials and supplies will be provided, including a selection of high-quality inks, carving tools, and paper. At the end of the workshop, participants will leave with several Lino Block prints and the knowledge and skills to continue exploring this exciting art form on their own
WHEN: Sundays, June 11th & June 18th
TIME: 10 AM – 3:30 PM
WHERE: Myrtle Press inside Verge Center for the Arts
PRICE: $135 Members / $150 General / $130 BIPOC Community
WHO: Adults
About the Instructor
Susan Silvester is a Sacramento-based artist, printmaker, and teacher with a Master of Fine Arts degree in Studio Arts and a Bachelor of Arts in Art History. As a board member of Myrtle Press, a printmaking facility in Sacramento, she is dedicated to supporting the printmaking community and fostering opportunities for artists to explore the medium. She has taught classes in linoblock printing through a collaboration of Pence Gallery and Myrtle Press, and has also taught college art classes in design, drawing, and color theory. Susan's work has been exhibited widely, demonstrating a mastery of traditional printmaking techniques, as well as a willingness to experiment with new approaches. She is deeply committed to exploring the possibilities of printmaking as a medium and is a member of the California Society of Printmakers.
Community Standards
In order to create a safe and encouraging environment for creativity, we ask that all attendees comply with Verge's non-discrimination policy which prohibits unlawful discrimination and harassment based on race, color, gender, gender identity/expression, age, physical or mental disability, religion, sex, sexual orientation, or any other consideration made unlawful by the state or local laws. We also ask that everyone contribute positively to a safe and comfortable environment for all attendees. We reserve the right to refuse entry to anyone who does not abide by our community standards stated above.
Cancellation and Refunds Policy
Verge Center for the Arts reserves the right to cancel classes, to change instructors, and to make other changes that may become necessary to ensure a quality experience for participants. In the event that a class is canceled, we will contact all registrants and offer the option of transferring to another available session, or receiving a full refund.
If a participant wishes to withdraw from a class, they must do so in writing at least seven days prior to the first class meeting to receive a full refund, less a $25 processing fee. Withdrawals occurring within seven days prior to the first class meeting will receive a refund of 50 percent of the total class fee. No refunds are given to withdrawals that occur 24 hours before the class begins. Transfers are not accepted after a class begins. Membership fees are non-refundable. Please note we are unable to issue cash refunds.