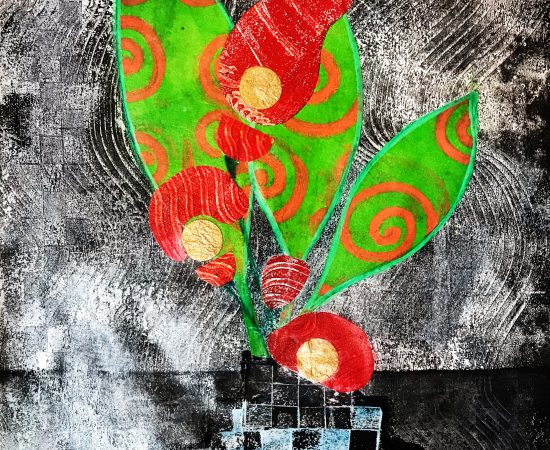 The Artist's Sketchbook
instructor: Franca Van Allen
category: Printmaking, Myrtle Press
price: General $140/ Member $125/ BIPOC $115
In this class we will learn mixed techniques with the use of mixed media. The focus is on the exploration of art materials and their interaction. We will work with a gel plate applying techniques such as: embossing, stenciling, masking and "resist" with acrylics, watercolor, inks and oil pastels. Various surfaced such as watercolor paper, Yupo, mineral paper, cardboard, polystyrene and Mylar, will be utilized for our projects. Instructions on the formal element of design are woven into this fun curriculum, and that can benefit artists at any level of their practice. By the end of this series of classes, you will have your artist sketchbook filled with great ideas ideas that you can integrate in your existing practice. Bring an apron or an old t-shirt. All materials are included in the price of this class.
WHEN: August 5, 12, & 19, 2023
TIME: 12 PM- 4 PM
WHERE: Myrtle Press inside Verge Center for the Arts
PRICE: General $140, Member $125, BIPOC $115
WHO: Teens, Adults
INSTRUCTOR: Franca Van Allen
About the Instructor
Born and raised in Italy, Franca's formal training is in philosophy and psychology. She has worked as a teacher, instructor and coach for over twenty years, and currently, she is a full-time artist. She describes herself as a "mostly self-taught" artist, although she attended college to learn more traditional forms of printmaking and design. Franca's teachings focus on the learning experience, creative expression and the reflective quality of art making.
Community Standards
In order to create a safe and encouraging environment for creativity, we ask that all attendees comply with Verge's non-discrimination policy which prohibits unlawful discrimination and harassment based on race, color, gender, gender identity/expression, age, physical or mental disability, religion, sex, sexual orientation, or any other consideration made unlawful by the state or local laws. We also ask that everyone contribute positively to a safe and comfortable environment for all attendees. We reserve the right to refuse entry to anyone who does not abide by our community standards stated above.
Cancellation and Refunds Policy
Verge Center for the Arts reserves the right to cancel classes, to change instructors, and to make other changes that may become necessary to ensure a quality experience for participants. In the event that a class is canceled, we will contact all registrants and offer the option of transferring to another available session, or receiving a full refund.
If a participant wishes to withdraw from a class, they must do so in writing at least seven days prior to the first class meeting to receive a full refund, less a $25 processing fee. Withdrawals occurring within seven days prior to the first class meeting will receive a refund of 50 percent of the total class fee. No refunds are given to withdrawals that occur 24 hours before the class begins. Transfers are not accepted after a class begins. Membership fees are non-refundable. Please note we are unable to issue cash refunds.