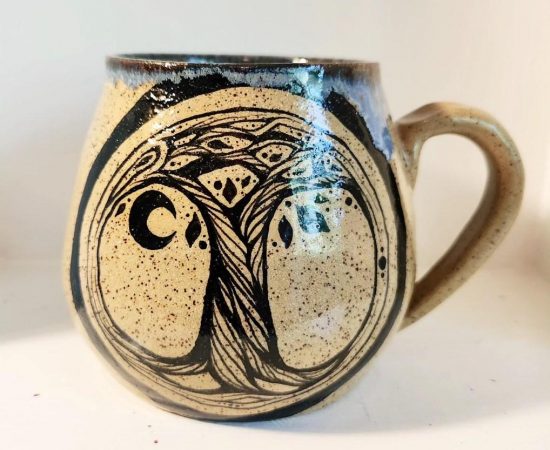 Wheel Thrown Pottery Workshop
instructor: Caitlin "CJ" Jones
price: $175 / $155 for current Verge members / $145 for our BIPOC community (Black, Indigenous or People of Color)
Join us for a four-session introductory wheel throwing class! Over the course of four weeks, beginner potters will be guided through the entire process from throwing on the wheel to the final glazing stage. This process has many steps that your instructor will demonstrate and guide you through. You will first learn how to center the clay and begin forming your vessels. During the next sessions, the vessels will be trimmed (creating a base). Verge staff will do the first firing (bisque) and then you will learn about several glazing options and glaze all of your creations. You will have plenty of time to practice and staff will fire everything for you to pick up at a later date. No previous experience is needed. All tools and materials included in registration!
This course is geared toward beginners, but is also appropriate for anyone who needs a refresher and would like a more extensive introduction to the facilities at Verge's Clay Lab.
WHEN: Sundays November 5, 12, 19, and 26
TIME: 2:00-4:30pm
PRICE: $175 / $155 for current Verge members / $145 for our BIPOC community (Black, Indigenous or People of Color)
WHO: Adults, Teens
About the Teaching Artist
CJ is currently teaching ceramics and 3D Art at a local High School. Graduating with a double major in Studio Art/Art History from UC Davis in 2010 she found her way to teaching Art through working at Sugarloaf Fine Arts Camp, teaching abroad in South Korea and now teaching in her home region of Northern California. CJ graduated from Sacramento State University in 2017 with Teaching Credentials for Art and multiculturalism. Her own works range from Oil Painting and Mixed Media to Sculpture and Ceramics, often with a running narrative of her survival of Stage 4 Lymphoma. She uses her Art in a cathartic way, analyzing disease, trauma and survival. CJ has a strong sense of Art as a therapeutic practice and enjoys teaching to give access for anyone else wanting to start their own journey into Art.
Community Standards
In order to create a safe and encouraging environment for creativity, we ask that all attendees comply with Verge's non-discrimination policy which prohibits unlawful discrimination and harassment based on race, color, gender, gender identity/expression, age, physical or mental disability, religion, sex, sexual orientation, or any other consideration made unlawful by the state or local laws. We also ask that everyone contribute positively to a safe and comfortable environment for all attendees. We reserve the right to refuse entry to anyone who does not abide by our community standards stated above.
Cancellations and Refund Policy
Verge Center for the Arts reserves the right to cancel classes, to change instructors, and to make other changes that may become necessary to ensure a quality experience for participants. In the event that a class is canceled, we will contact all registrants and offer the option of transferring to another available session, or receiving a full refund.
If a participant wishes to withdraw from a class, they must do so in writing at least seven days prior to the first class meeting to receive a full refund, less a $25 processing fee. Withdrawals occurring within seven days prior to the first class meeting will receive a refund of 50 percent of the total class fee. No refunds are given to withdrawals that occur 24 hours before the class begins. Transfers are not accepted after a class begins. Membership fees are non-refundable. Please note we are unable to issue cash refunds.