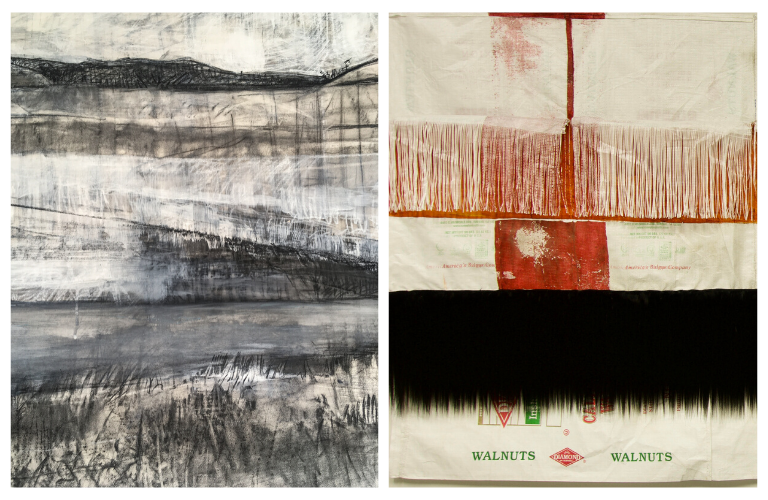 Ali Youssefi Project Residency Exhibits: Jodi Connelly and Michael Pribich
December 14, 2019 – March 15, 2020
reception: Saturday, December 14, 6pm - 9pm
Verge Center for the Arts is pleased to present two concurrent solo shows by the
first Ali Youssefi Project (AYP) Artists in Residence: Before You Were This Place, You Were
Another Place by Jodi Connelly and Backstitch by Michael Pribich. The Artist in Residency
Program is the first in a series of initiatives to be launched by AYP, which was created with
financial support from generous donors following the untimely death of Ali Youssefi. Youssefi
was a proud Sacramentan, humanitarian, and deep lover of the arts. The AYP Artist in
Residency program aims to continue Youssefi's efforts to champion artistic growth within
Sacramento.
Jodi Connelly: Before You Were This Place, You Were Another Place
Through the physicality of working directly with the land, Jodi Connelly explores the effects of
human presence in the environment and how our migrations and activities have transformed it.
Connelly's interactions with the landscape are an attempt to create intimacy with a place and
become part of its rhythms. Before You Were This Place, You Were Another Place explores the
history and ecology of the land where Connelly has reintroduced native plants to the site of the
former mining town of Knoxville, CA, located on the McLaughlin reserve.
About Jodi Connelly: AYP Verge Artist in Residency Recipient (Local)
Jodi Connelly's work investigates the complexities of the human relationship to nature and the
environment. Through site-specific environmental interventions that include photographic
documentation, sculpture and drawing, she explores issues of climate change and the effects
migration and development have had on native ecosystems over the past 400 years. Her work
is hand wrought and physical, in an attempt to create intimacy between herself and the land
upon which she works. She completed her MFA in Art Studio at the University of California,
Davis in 2018, where she received the Keister and Allen Prize for her project An Intervention in
Space and Time , a year-long environmental intervention at the UC Davis McLaughlin Reserve.
Her work is included in the permanent collections of the Manetti Shrem Museum in Davis, CA,
the Greenville Museum of Art and the Durham Art Guild in North Carolina.
Michael Pribich: Backstitch
For his exhibit, Backstitch , Michael Pribich has de-weaved and altered synthetic bulk bags,
which are commonly used in agriculture and construction work. Pribich's ideas are informed by
the unique things he has seen and experienced during his residency in Sacramento where the
laden history is both fabulous and tragic. He's attracted to the magnificent Central Valley setting,
including the infrastructure that supports enormous production. Pribich's de-weaving of bulk
bags is a metaphor for de-constructing traditional labor narratives. By opting to sew the
backstitch of post-colonial history, he encourages the viewer to look behind in order to see
ahead.
About Michael Pribich: AYP WAL Artist in Residency Recipient (National)
Born and raised in Northern California, Michael Pribich is a visual artist living in New York City
with his wife Esperanza Cortes. He is interested in the artist's role in advancing ideas that lead
to continual growth and change. His work uses labor to address themes of displacement and
migration in both rural and urban settings. He explores the idea that labor can be viewed as
cultural production, resulting in an expanded social space. He has participated in exhibitions
and artist residencies throughout the world, including the United States, Mexico, Europe, and
India. He has completed public art projects with the Public Works Departments in Sacramento
and Woodland. Recent exhibitions include The Evolution of Latinx Identity at Medgar Evers
College in Brooklyn, NY and Concrete and Adrift: On the Poverty Line at the Alexandria
Museum of Art in Alexandria, Louisiana.
Left: Jodi Connelly, "Lines of Excavation", Charcoal, pastel, gouache and gesso on paper, 2019. Right: Michael Pribich, "Codices", Recycled material bags sewn together and de-woven, pigment, human hair, 2019